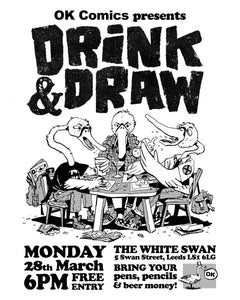 Drink and Draw is Back!
Drink & Draw is the free, semi-regular, casual social event hosted by OK Comics at The White Swan, Swan Street, Leeds.
We invite everyone to come along to drink and to draw, though you don't have to be any good at, or take part in, either of those things. You can just come to hang out.
We will provide drawing materials, but you're welcome to bring your own.
The White Swan has a great range of food and beverages available.
Monday 28th March, from 6pm, but feel free to arrive at any time you want.
---