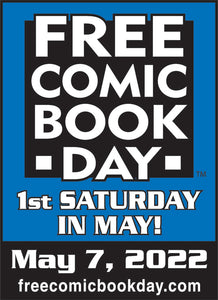 Free Comic Book Day 2022 at OK Comics!
Get ready for Free Comic Book Day folks.
Every year at OK Comics we give away comics for FREE on the first Saturday in May.
All the main publishers put out a comic or two that represents their range, or promotes an upcoming series.
We pile them high and give them away!
Here's a list of comic books that will be FREE on the day this year...
10 TON PRESS PRESENTS 10 TON TALES
25 YEARS OF BUFFY THE VAMPIRE SLAYER SPECIAL
AVATAR LAST AIRBENDER LEGEND OF KORRA
AVENGERS X-MEN #1
BARBARIC #1
BEST ARCHIE COMIC EVER #0
BEST OF 2000 AD ISSUE ZERO
BLOODBORNE #1
BONE ORCHARD MYTHOS PRELUDE
BUNNY MASK TALES
CARRIERS-BEORN-DRAGON WHISPERER
CLEMENTINE #1 (WALKING DEAD)
DAV PILKEY SAMPLER FEATURING DOG MAN
DISNEY MASTERS DONALD DUCK & CO SPECIAL
DOCTOR WHO #1
ELECTRIC BLACK CHILDREN OF CAINE #0
ENEMIES BY SVETLANA CHMAKOVA
EQUILIBRIUM
FUZZY BASEBALL TRIPLE PLAY
HOLLOW #1 SPECIAL
INCAL UNIVERSE
IT WONT ALWAYS BE LIKE THIS SAMPLER
JONNA AND THE UNPOSSIBLE MONSTERS
KAIJU NO 8
KULT CABLE #1 FEAT JACK BLACK
MARVELS VOICES #1
MAX MEOW CAT ON STREET COMICS SPECTACULAR
NEVERLANDERS PREVIEW
NOTTINGHAM SPECIAL
OVERSTREET GUIDE TO COLLECTING
POKEMON JOURNEYS POKEMON ADVENTURES XY
PRIMOS #1
REALM OF BLUE MIST REMA CHRONICLES
RED SONJA MARVEL FEATURE STORIES
SONIC THE HEDGEHOG
SPIDER-MAN VENOM #1
STREET FIGHTER MASTERS BLANKA #1
STRANGER THINGS RESIDENT ALIEN
TEENAGE MUTANT NINJA TURTLES
TEX IN LAND OF THE SEMINOLES
THE GUARDIAN OF FUKUSHIMA
THREE STOOGES CELEBRATION #1
TRESE
WANDANCE & BLACKGUARD SAMPLER
WINCHESTER MYSTERY HOUSE HUNDRED YEAR CURSE
YEAR OF VALIANT 2022
Frequently Asked Questions.
- Is everything free?
NO. All the major publishers put out a comic or two each that represents what they're about, or promotes an upcoming comic or storyline. There will be about 50 different titles to choose from.
- Can I take as many as I want?
In theory, yes, but in practice we urge people to take only the comics that they think will appeal to them. Visitors usually take three or four comics each, and that's fine with us.
We don't allow people to take multiple copies of the same issue.
- Is it busy?
Yes. So busy that we have to limit the amount of people in the shop at any one time, which can cause delays. In recent years we've had people start queuing as early as 4am, and even had people sleep outside the shop overnight to ensure they're first in line.
- I don't care about Free stuff. Can I just walk to the front of the queue?
No. While we acknowledge that Free Comic Book Day makes the shop very busy and it's inconvenient to have to stand in line to get inside, everybody visits us for different reasons.
The queue isn't just for free comic book day, it's to gain access to the shop.
- How long will I have to stand in line?
We aim to keep things moving as swiftly as possible, without rushing people in the shop. Average waiting time has previously been about twenty minutes.
- I'll be along when the crowds have died down. Is that OK?
We try to get enough Free comics to last all day, but every year we're busier and busier. The later you leave it, the less likely we'll be to have any free stuff left.
- I can't make it on the day. Can you reserve them for me?
No. We have so many reservation requests that if we said yes to them we'd have no free comics for people visiting on the day.
Please don't ask for free stuff to be reserved.
If you have any questions about Free Comic Book Day please ask in store, email shop@okocmics.co.uk or check out the FCBD website!
---