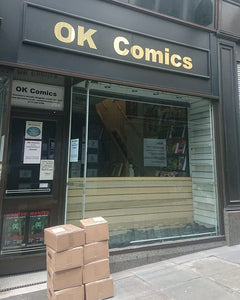 It's Restock O'Clock!
We've just received our first restock delivery for almost a month. See list below. All this stuff will be available for mail order, just email shop@okcomics.co.uk to place the order.
You can also mail order anything we have on our shelves.
Unfortunately we are still not receiving new releases. Stay tuned for updates on that.
Please Note: The shop remains closed for now.
Do not travel to visit OK Comics.
ASCENDER VOL 1 (PAPERBACK)
BATMAN A DEATH IN THE FAMILY (PAPERBACK)
BATMAN ARKHAM ASYLUM (PAPERBACK)
BATMAN KNIGHTFALL VOL 1 (PAPERBACK)
BATMAN KNIGHTFALL VOL 2 KNIGHTQUEST (PAPERBACK)
BATMAN KNIGHTFALL VOL 3 KNIGHTSEND (PAPERBACK)
BATMAN THE BLACK MIRROR (PAPERBACK)
BATMAN THE KILLING JOKE (HARDCOVER)
BATMAN YEAR ONE (PAPERBACK)
BERSERK DELUXE EDITION VOL 1 (HARDCOVER)
BERSERK DELUXE EDITION VOL 2 (HARDCOVER)
BERSERK DELUXE EDITION VOL 3 (HARDCOVER)
BERSERK DELUXE EDITION VOL 4 (HARDCOVER)
CARTHAGO ADVENTURES (HARDCOVER)
DAREDEVIL CHIP ZDARSKY VOL 1 KNOW FEAR (PAPERBACK)
DAREDEVIL CHIP ZDARSKY VOL 2 (PAPERBACK)
DARK KNIGHT RETURNS (PAPERBACK)
DESCENDER VOL 1 TIN STARS (PAPERBACK)
DESCENDER VOL 2 (PAPERBACK)
DESCENDER VOL 3 SINGULARITIES (PAPERBACK)
DESCENDER VOL 4 ORBITAL MECHANICS (PAPERBACK)
DESCENDER VOL 5 (PAPERBACK)
DESCENDER VOL 6 (PAPERBACK)
DIE VOL 1 FANTASY HEARTBREAKER (PAPERBACK)
DIE VOL 2 SPLIT THE PARTY (PAPERBACK)
DREAMING VOL 1 PATHWAYS EMANATIONS (PAPERBACK)
DREAMING VOL 2 EMPTY SHELLS (PAPERBACK)
EAST OF WEST VOL 1 THE PROMISE (PAPERBACK)
GIDEON FALLS VOL 1 (PAPERBACK)
GIDEON FALLS VOL 2 ORIGINAL SINS (PAPERBACK)
GIDEON FALLS VOL 3 STATIONS OF CROSS (PAPERBACK)
HARLEEN (HARDCOVER)
HOUSE OF WHISPERS VOL 1 POWER DIVIDED (PAPERBACK)
HOUSE OF X / POWERS OF X (PAPERBACK)
IMMORTAL HULK VOL 1 (PAPERBACK)
IMMORTAL HULK VOL 2 (PAPERBACK)
IMMORTAL HULK VOL 3 (PAPERBACK)
IMMORTAL HULK VOL 4 (PAPERBACK)
IMMORTAL HULK VOL 5 (PAPERBACK)
IMMORTAL HULK VOL 6 (PAPERBACK)
INVISIBLES BOOK 1 (PAPERBACK)
JOKER (PAPERBACK)
LEAGUE EXTRAORDINARY GENTLEMEN ONE (PAPERBACK)
LITTLE BIRD FIGHT FOR ELDERS HOPE (HARDCOVER)
LUMBERJANES VOL 8 ( (PAPERBACK)
LUMBERJANES VOL 9 (PAPERBACK)
LUMBERJANES VOL 10 ( (PAPERBACK)
LUMBERJANES VOL 11 (PAPERBACK)
LUMBERJANES VOL 12 (PAPERBACK)
LUMBERJANES VOL 13 (PAPERBACK)
MISTER MIRACLE (PAPERBACK)
MONSTRESS VOL 1 (PAPERBACK)
MONSTRESS VOL 2 (PAPERBACK)
MONSTRESS VOL 3 (PAPERBACK)
MONSTRESS VOL 4 (PAPERBACK)
OBLIVION SONG VOL 4 (PAPERBACK)
OBLIVION SONG VOL 2 (PAPERBACK)
OBLIVION SONG VOL 3 (PAPERBACK)
OBLIVION SONG VOL 4 (PAPERBACK)
OUTER DARKNESS VOL 1 (PAPERBACK)
OUTER DARKNESS VOL 2 (PAPERBACK)
PAPER GIRLS VOL 1 (PAPERBACK)
PAPER GIRLS VOL 2 (PAPERBACK)
PAPER GIRLS VOL 3 (PAPERBACK)
PAPER GIRLS VOL 4 (PAPERBACK)
PAPER GIRLS VOL 5 (PAPERBACK)
PAPER GIRLS VOL 6 (PAPERBACK)
PUNISHER MAX VOL 1 (PAPERBACK)
PUNISHER MAX VOL 2 (PAPERBACK)
PUNISHER MAX VOL 3 (PAPERBACK)
PUNISHER MAX VOL 4 (PAPERBACK)
PUNISHER MAX VOL 5 (PAPERBACK)
RISE AND FALL OF TRIGAN EMPIRE VOL 1 (PAPERBACK)
ROYAL CITY VOL 1 (PAPERBACK)
ROYAL CITY VOL 2 (PAPERBACK)
ROYAL CITY VOL 3 (PAPERBACK)
SWEET TOOTH BOOK 1 (PAPERBACK)
SWEET TOOTH BOOK 2 (PAPERBACK)
SWEET TOOTH BOOK 3 (PAPERBACK)
TREES VOL 1 BY WARREN ELLIS (PAPERBACK)
TREES VOL 2 BY WARREN ELLIS (PAPERBACK)
TREES VOL 3 BY WARREN ELLIS (PAPERBACK)
WALKING DEAD VOL 30 (PAPERBACK)
WALKING DEAD VOL 31 (PAPERBACK)
WALKING DEAD VOL 32 (PAPERBACK)
WEATHERMAN VOL 1 (PAPERBACK)
WEATHERMAN VOL 2 (PAPERBACK)
WOLVERINE OLD MAN LOGAN (PAPERBACK)
Y THE LAST MAN BOOK 1 (PAPERBACK)
Y THE LAST MAN BOOK 2 (PAPERBACK)
Y THE LAST MAN BOOK 3 (PAPERBACK)
Y THE LAST MAN BOOK 4 (PAPERBACK)
Y THE LAST MAN BOOK 5 (PAPERBACK)
---