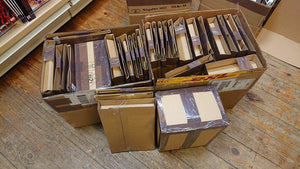 The mail order must go on....
Hi everybody!
We've been getting a few questions in regards to Lockdown 2: Judgement Day. We thought we'd answer them on as many platforms as we can!
So, here goes...
Are you guys still open?
As much as we'd argue that we provide an essential service, the government doesn't agree. We'll be closed until 02/12/20, unless the Lockdown is extended.
Are you still getting weekly deliveries?
Yes! We will continue to get in new releases each week. If anything changes, we will keep you informed.
How can I get my comics now that you're closed?
We're working tirelessly to provide a mail order service for all of our customers. If you want your standing order posted out, please email us at shop@okcomics.co.uk. In the email, please state how often you want your comics posting - we can do them weekly, every other week or once a month.
How am I going to buy my Christmas presents now?!
We have a pretty well stocked website, but we understand that not everything we have in store is on there! If there's anything you need that isn't on the site, please email us and we'll sort it out.
We recommend getting all Christmas orders in before the 10th of December, so that we can guarantee delivery before the big day. 
We can also post your gift directly to the recipient. Simply tell us their name and address and we'll make sure to send it to the correct place. We can even put a label on the parcel instructing them not to open until the 25th! Unfortunately, we're not able to provide a gift wrapping service, sorry!
If there's anything that you're worried about and it's not covered here, please feel free to get in touch and we'll help as best as we can.
Stay safe out there and we'll see you on the flipside.
Cheers,
The OK Team
---