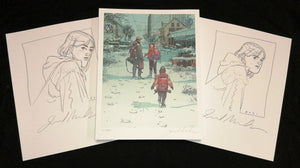 This book could be pulled from last years news...
The Fall is the perfect graphic novel for our current situation. First released in Europe in 2018, it's like Jared Muralt was able to predict everything that has come to pass since early 2020.
The story follows a father and his children, navigating a pandemic ridden world. Beautifully illustrated throughout, this story really hits home. 
Jared Muralt has been so kind, he's provided us with stunning signed bookplates to accompany our copies. Not only that... He's given us a limited amount of original sketches to giveaway to a few lucky customers!
To be in with the chance to win a piece of original art, make sure to pre-order your copy of The Fall.
---