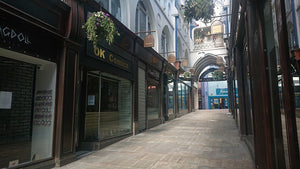 Upcoming New Release Schedule
OK Comics remains closed but we are still working really hard with our mail order service!
New comics and graphic novels will be available from OK Comics on a fortnightly basis. That's every two weeks, on Wednesdays, May 27th, June 10th, June 24th.
This scheme will be assessed in July.
If you want your stuff mailing out while we are closed, please let us know as early as possible.
Huge thanks must go to Diamond Comics UK for working this out in the most difficult of circumstances.
Receiving new stock every two weeks deals with problems of social distancing and reduced staffing levels at warehouses, and takes into account the potential continuation of lockdown, irregular air freight options, increased air freight costs, and control over regularity/quantity/cost of new product to you.
Please note, throughout all this we will continue offer our mail order service for comics and books that we currently have in stock, including customer reservations.
And you can place orders through our new online shop which we're currently populating with some of our favourite, popular and recommended items.
You can also sign up for our online newsletter there. https://okcomics.co.uk/
Here are the answers to some frequently asked questions...
- When will you reopen?
This is unknown. We're in the same situation as most businesses in the UK. The proposed date for reopening non-essential shops is June 1st. But I expect we'll be closed for much longer than that.
- New comics are out in the US on 20th May, why is it not the same here?
New releases will be available from some US shops on 20th May, many of which are closed to customers and operating as mail order only. Getting those same comics across the Atlantic in a safe and affordable manner has caused the delays.
- Are you providing a mail order service?
Yes. See below for how to order.
- If you're in the shop, can I just pop in to buy some stuff?
No. We will not be allowing access for customers until the end of the lockdown. Please so not travel to OK Comics.
- Can I still add stuff to my regular monthly order list?
Yes. Just email shop@okcomics.co.uk and we'll sort you out.
- Can I order stuff that you don't have?
Yes. Most of our suppliers are running again, though most of them on a really limited scale. If you want it, and we don't have it, let us know and we'll see what we can do. Be aware, delivery times are likely to be delayed.
How can I place an order for delivery?
- Email shop@okcomics.co.uk
- Put the phrase "Mail Order" in the subject.
- Orders placed by Facebook, messenger, Instagram, Twitter, or any other social media will be processed in July, so please use email.
- Tell us specifically what you want, whether it's your regular comic order, a special request, or both.
- We'll send you a PayPal request.
- If your PayPal email address is different to the one you're emailing from, please inform us.
- The items will be sent as soon after payment as possible.
- There will be delays. Be aware, the post office, Royal Mail, and all our usual couriers are stretched to their limits at the moment. They are handling a busier workload with limited staff, so please be patient.
- Please, PLEASE, make sure we're made aware if the current shipping address is different to the one that accompanies your PayPal payment information.
Please be patient, we have over 1,200 regular order customers, who are now ALL mail order customers! We will answer all emails in the order that they're received.
Huge thanks to all our customers who have supported us throughout this crisis. It's really appreciated.
If you have any more questions, please email shop@okcomics.co.uk or post them here.
---