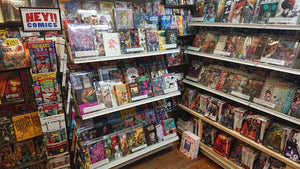 We just want to say...
Hullo everybody!
We just wanted to say a MASSIVE 'thank you' to everyone who is using the mail order service, the website and still visiting us at the shop. Footfall in Leeds has dropped substantially for us, and other independent stores. We just want you all to know how appreciated it is.
We have some news that we want to share with you...
There will be another wave of graphic novels released from TKO Studios on the 9th of November! We're super excited about it! 
A few years back, David Aja released the first two issues of his series, Seeds. Sadly, it was cancelled at #2 but the full series is going to be released in December straight to graphic novel! This could be our book of the year!!!
Ram V is one of our favourite creators of the moment, we loved Graffity's Wall and These Savage Shores... So we're super excited for his new Image title Blue In Green. If you want to pre-order this title make sure to email us at shop@okcomics.co.uk.
If you're planning to do your Christmas shopping with us (I know it's only October! We're planning ahead with Covid-Post!!)... The post office has signs up all over telling us to get parcels in the post as soon as we can. There's usually a few delays during the Christmas period and we're not sure just how much it will be effected by Covid-19 this year. We'd recommend ordering what you need as soon as you can, so we can ensure they get to you in time for the big day.
We're regularly adding more stock to our website, but so far we probably have about 5% of our stock online... zzzz.... If you're after anything that you can't see there, please get in touch and we'll do our best to sort you out.
Again, thank you all!! We hope everyone is doing okay. We'll see you soon, hopefully!
All the best, 
The OK Comics Team
---